It's no secret what makes a project successful:
A clear goal
A committed and helpful sponsor
Realistic expectations
Good communication and engagement from everyone involved.
You feel like you've tried everything to get those things.
And your projects just aren't getting to where you want them to be.
Or maybe you haven't been able to try much at all. Perhaps you've lacked confidence to make recommendations. Perhaps you've been too busy firefighting. Perhaps your project is too overwhelming. Perhaps you haven't known where to start.
Every project is different. You need a process that works, and someone in your corner.
It doesn't matter if you work in an agency, in a PMO, as an in-house project manager, or if you've just taken your first project management job. You need to stay on top of what works today.
You can get where you want to be with your career. There is no one-size fits all approach, but as soon as you have a clear path to follow, tools to help you manage the work and the encouragement to stand up and lead the change, you can start making a real difference on your projects.
Introducing Project Management Rebels.
Project Management Rebels is a curated library of resources.
It's a teaching-led group mentoring programme that gives you dozens of training videos and resources at your fingertips from Day 1.
You'll get the foundational knowledge, the skills to deliver, and the community that so many project managers don't have in their organisations.
You'll learn through a combination of live teaching, videos, and other resources. Join our group of engaged and supportive project managers on our monthly action and support calls so we can help you achieve your goals and keep you accountable.
We've also got exclusive templates and webinars to help you make more of a difference, more quickly.
Each month you'll find something new, and you can be sure that everything is grounded in real world results – because project success matters more than what the textbooks say.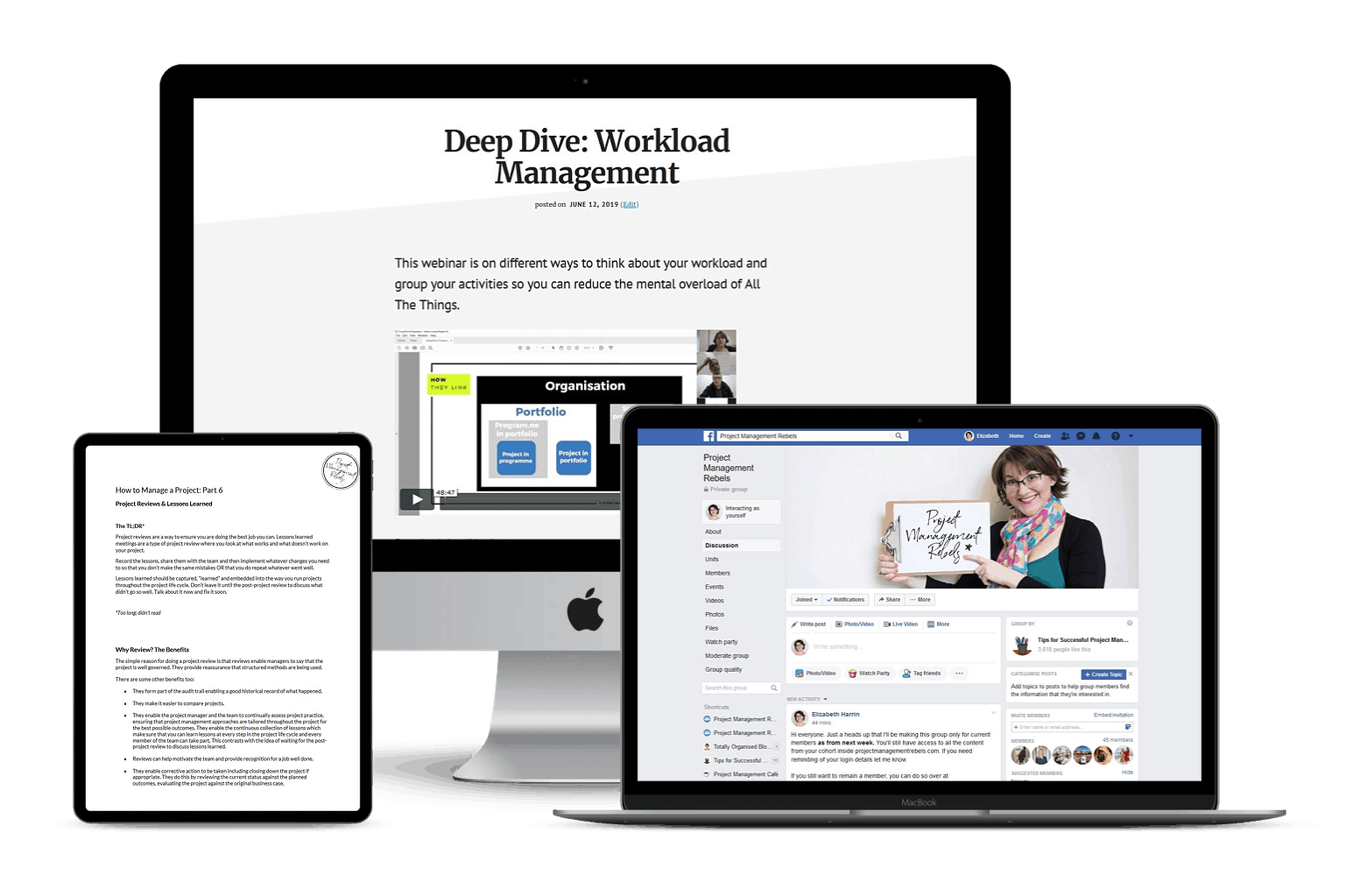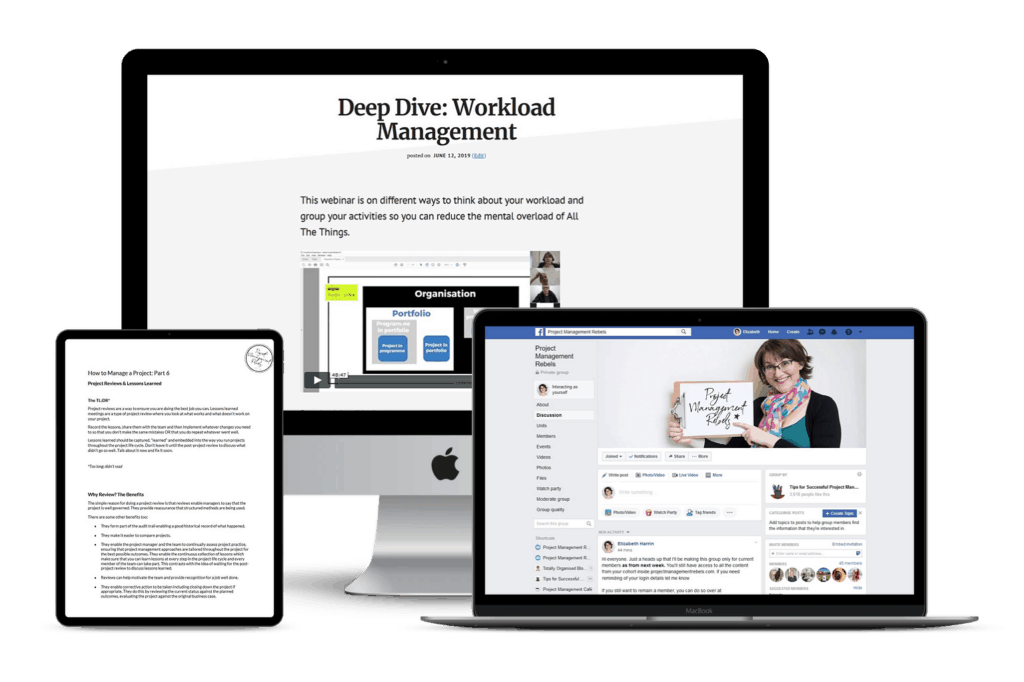 Every month you get access to new training materials or resources designed to help you manage your projects more effectively and efficiently.
All the training is designed to align with the PMI Exam Content Outline (and other continuous professional development schemes like APM). We follow the career journey below to meet you at the stage you are right now, and get you to the next stage as quickly as possible.
Every Monday you get an email spotlighting new resources, online meet ups and community activities so you don't miss anything and don't get overwhelmed.
"I just wanted to say a huge thank you for putting PM Rebels together. It came at a time when I really needed an experienced person's input and advice on where I was in the project I'm running. I feel more confident and have learnt so much. Thank you once again and wishing you all the best as you continue to add value to the PM world!!"
"Project Management Rebels is a great community to be a part of. Elizabeth delivered well-curated content in an easy-to-understand format that included many templates and examples that I've already been able to put to use in my work. Elizabeth was really flexible with skill-building topics for the group based on the group's needs and requests. Even better, she understands project management doesn't happen in a perfect environment, and gave practical, actionable advice. I definitely recommend signing up – it's definitely a value-add!"
It is possible to influence and lead a team confidently. Here's my story:
Unlike a training course, you'll find videos and materials that meet you where you are today.
You can decide how much to participate in the live elements of the group. Everything is recorded for you to watch at your convenience – because I know how a project crisis can quickly derail your plans for the day!
Curious about what it's like? Take a look inside!
Hello, I'm Elizabeth Harrin.
I'll start by saying I'm glad you've stopped by. I know Project Management Rebels is an amazing programme, and I can't wait to share it with you!
So, a little about me: I'm a project manager, award-winning blogger, author of six books, APM Fellow and now, your mentor.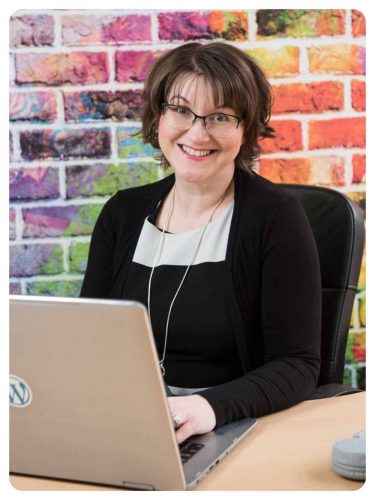 I don't much like blowing my own trumpet but I've been fortunate enough to speak at conferences around the world…
(this is PMI Synergy)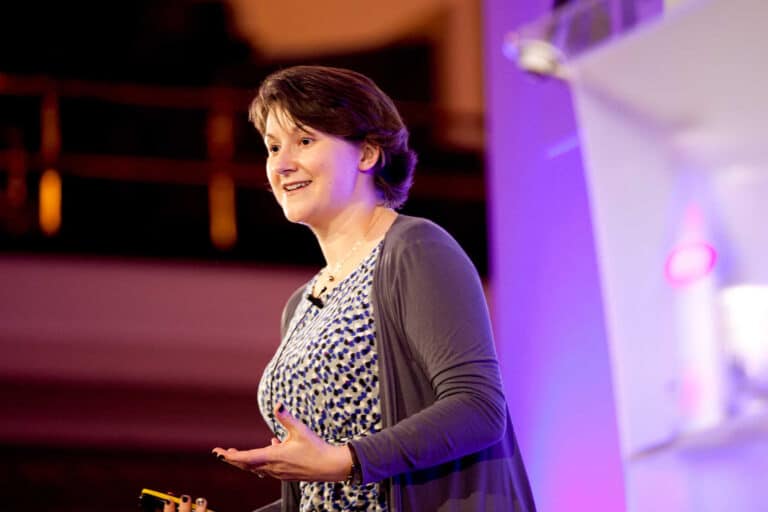 …write for industry press…
(this is Business and Industry)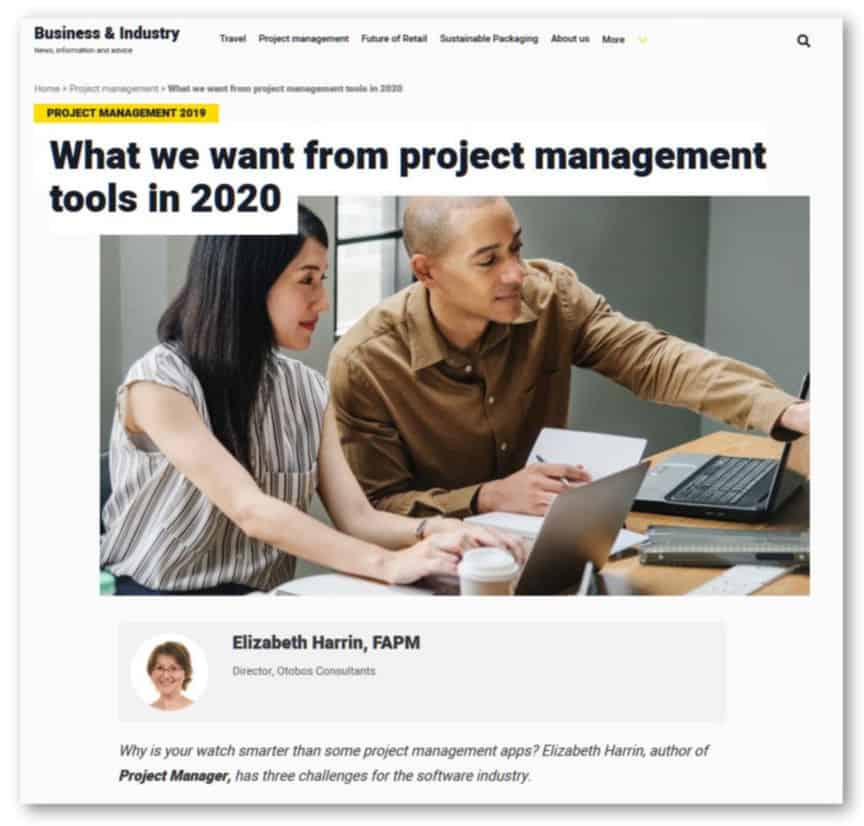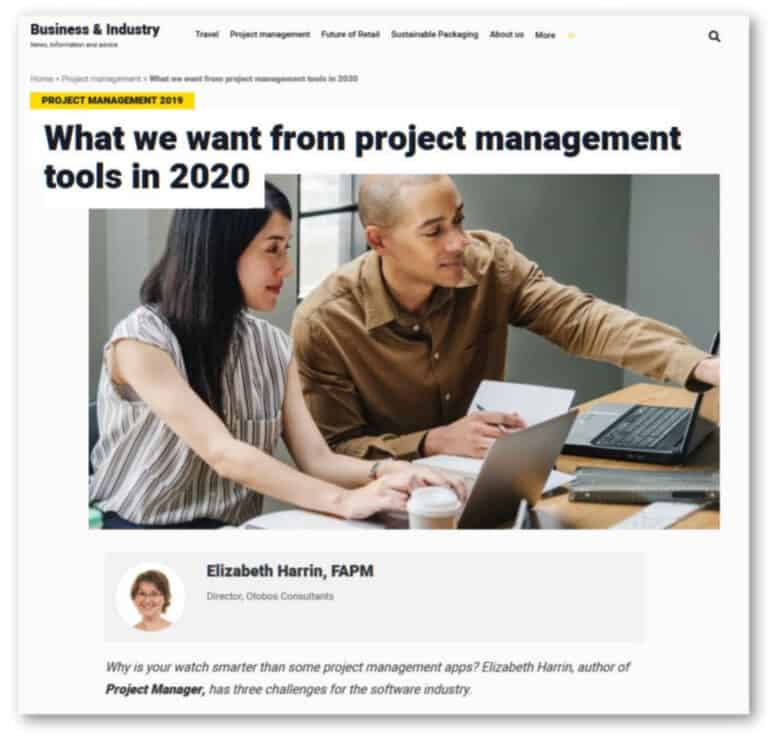 …and be interviewed by industry sources like the Major Projects Knowledge Hub as well.
In my own career, I've discovered that making big steps forwards generally comes from being brave about the choices I make and doing the right thing.
I value making things simple, work/life balance and continuous professional development.
I don't care much for rigid adherence to methodologies. I trust people to use their professional judgement, and I help them build their skills and confidence so they can believe it too.
I believe in action and doing over book learning, and that's what I want to help you with.
Inside PM Rebels, we show you how to make your knowledge work in real life. Because projects don't always turn out like they tell you in the textbooks. We help you take you project management skills to the next level and get results for your organisation and your career.
Access to the resource vault
A new resource every month (which could be a guest speaker, a live training session, a resource pack or something else)
A monthly virtual coaching video answering a question asked by a member
Monthly action and support calls: Drop in and ask me anything
Private Facebook community
Exclusive resources, downloads and other extras!
When you join the community you also get access to past online programs including:
Change management workshop
Meetings management masterclass
Project scheduling workshop
Interview success kit.
Your membership includes access to our password-protected member's website, with our curated knowledge library of videos, templates and more to help you lead and influence change.
Monthly
Monthly project management resources and group action and support calls
Annual
Secure your project management learning and support for a whole year!
What's the time commitment?
You can spend as little or as long as you like working through the materials that are relevant to where you are now.
Does this lead to a certification?
No, you won't get a certification but you can use your personal study time to count towards your continuous professional development credits e.g. PDUs. The topics we cover in the group align to the PMI Talent Triangle and many other professional development frameworks.
Can my company pay?
Yes! Many companies choose to pay with a credit card as the cost is low, but if you need an invoice/receipt for your business, let me know and I'll get those to you.
Is this a course?
It's better than a course! The programme is directed by the needs of the members. We'll be switching up our focus to look at the things that matter to you.
Identify where you are on the career journey above, and then dive into material that's perfect for your stage.
I work in a specific industry/type of organisation/sector. Will this be relevant for me?
Do you have to manage projects either full-time or around the edges of your day job? Do you have to work with other people to get those projects done?
If so, then yes, it's relevant for you!
Is there technical training?
While we sometimes look at particular tools, I don't offer in-depth technical training on project management software.
How is the training delivered?
Most of the training is recorded video. Our office hours sessions are live, and interactive (although not compulsory!).
I'm not on Facebook/I don't want to use Facebook for work. What will I miss out on?
You won't miss out on any training or content. You'll be able to access everything through the website, and also through weekly emails that highlight the latest materials.
However, the Facebook group is a good place to network with other project managers, share your wins and challenges and get support. Using Facebook is not compulsory, but you'll be missing the 'chat' if you choose not to join the Facebook group.
Why do you spell 'organise' with an 's'?
Because I'm British and that's how we do it!
Do you offer 1:1 mentoring/support?
Yes I do! We can speak on Skype, Zoom or regular phone and discuss the challenges you are facing on your project. I also send you written notes with links to relevant resources after our session.
You can book a one-off session or a package of several hours here. Sessions are one hour long, with other durations by arrangement, and normally within UK office hours, although UK evening times are possible, by arrangement.
Where can I see the terms and conditions?
Here are the terms and conditions for the Project Management Rebels program: Read the terms and conditions.
The general website terms and conditions are here.