You're juggling all the things. Feeling overwhelmed. Constantly firefighting.
You're struggling to get the team on board and pull all the pieces together.
And you're starting to doubt your abilities as a project manager.
In fact, sometimes you don't quite know where to start or how you're going to get through it all. Without losing sleep, your sanity, or both!
And you're getting increasingly frustrated because you're trying to follow the same old textbook ways when they just don't work in real life?
You need support but you're not quite sure where to get it. Your manager can only help so much and no one else really understands what you do or knows your priorities.
It feels like your projects just aren't as successful as you want them to be (and you know they can be).
You want to be a better project manager.
Well, you're not alone…
It isn't just you who is struggling to find someone to ask for support. Embarrassed when they don't have all the answers all the time. And often feeling they're "winging it" just to get to the next step
It isn't just you who's realized that the training you've had so far doesn't always equip you with what you need to actually get the job done.
And it's not just you who seems to have more and more projects to manage with even less support available.
But how would it feel…
👉 If you knew there was always someone to offer support and reassurance when you got stuck?
👉 If you knew you had the tips, templates and tactics you needed at your fingertips?
👉 If you were less stressed, less exhausted, less worried?
Imagine having the confidence…
✔️ To know you were always making the right decisions.
✔️ To feel more efficient, more effective and in control.
✔️ To make a real difference with your projects.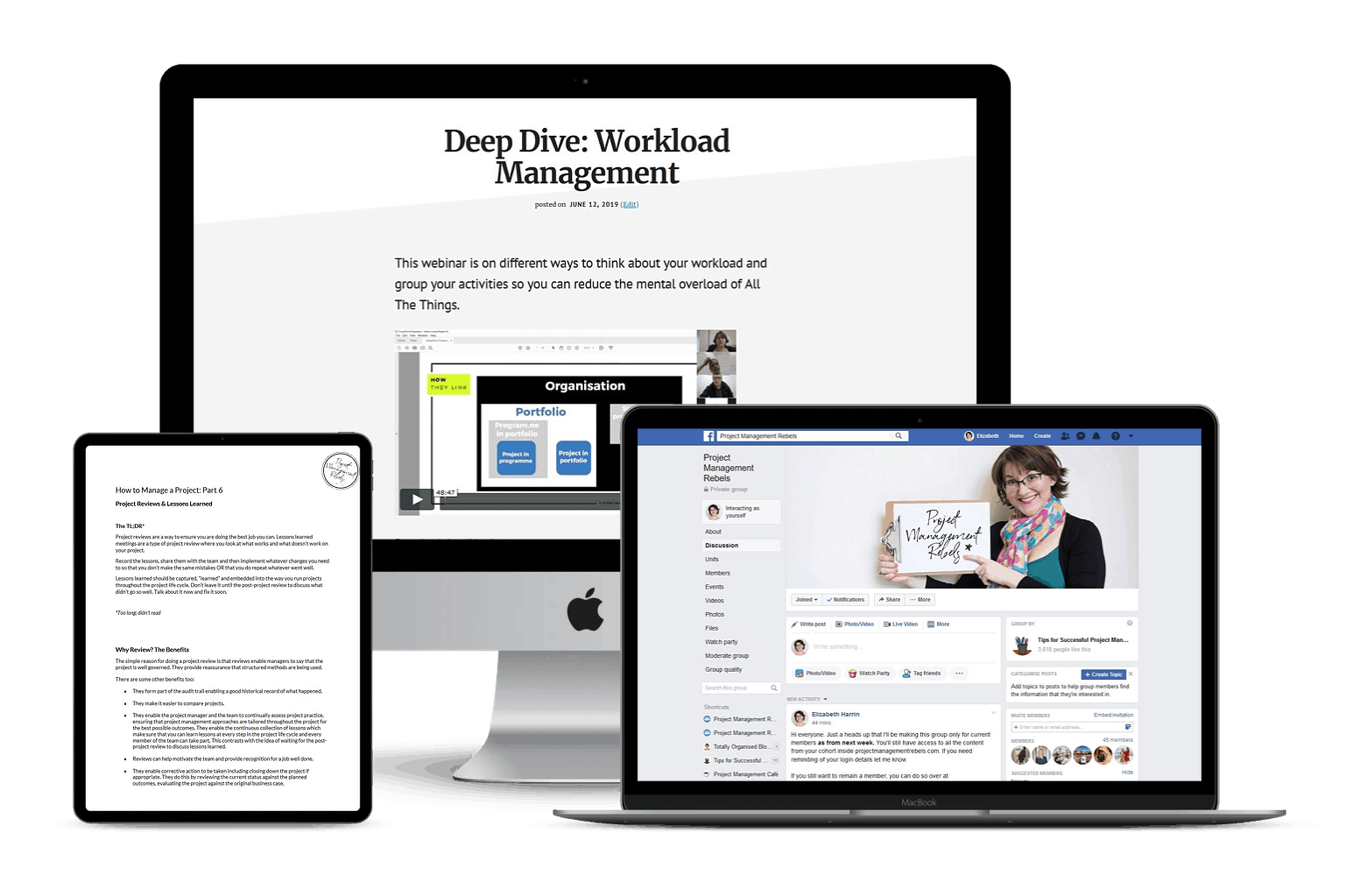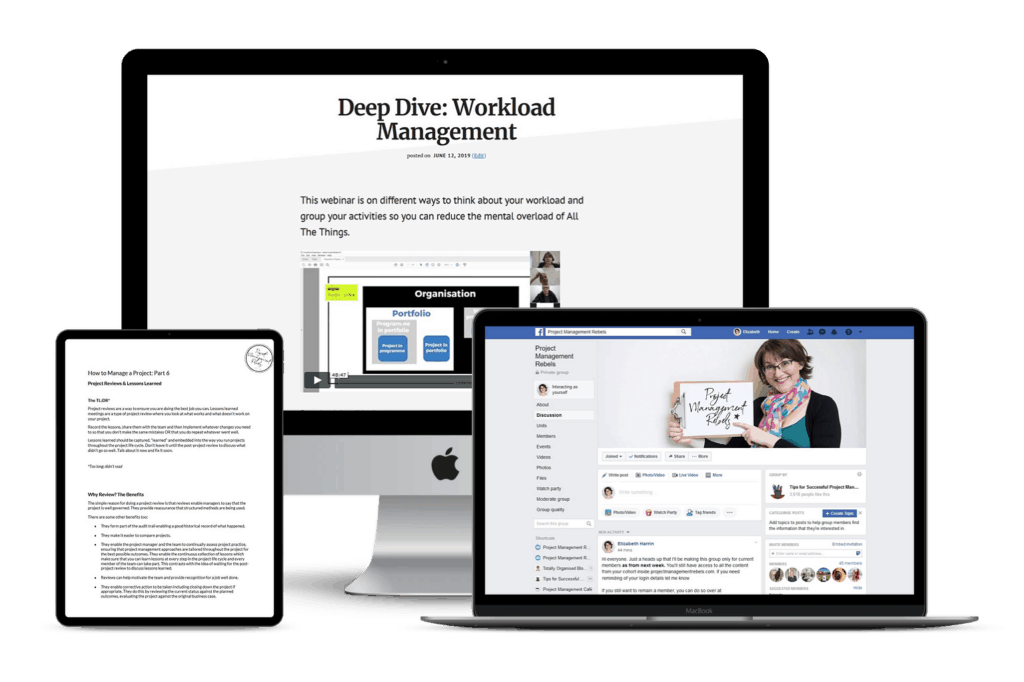 Introducing Project Management Rebels
A private group mentoring community for project managers just like you.
Focused on teaching you the skills, and building the confidence, you need to deliver your projects more easily.
Showing you the how.
And helping you to develop your career, enjoy life and make the impact you're capable of.
"During one of my most intensive periods at work PM Rebels provided me with best practices and techniques to tackle the 10 projects I was handling at the time – to make progress and provide accurate status reports. This experience was a stepping stone for my next career move as it allowed me to easily showcase and discuss how I handled these tasks."

Alex Errea
"Advice from Elizabeth has helped me get two of my last three jobs. I've managed a business-wide project at short notice, to help the organization meet a legislative deadline. And most recently, it helped me achieve my goal of moving into the Strategic Projects Delivery team because I've got access to the resources in PM Rebels to manage the project successfully, where our own resources have gaps."

Amanda Howard
What's included
Every month you get:
A BRAND-NEW TRAINING webinar – covering member-led topics – with actions to implement straight away. Join live or access the recordings anytime.
An "office hours" GROUP SUPPORT call – giving you the chance to discuss the challenges you're facing and get advice from me and your fellow project managers.
Quick Question VIRTUAL COACHING opportunity – ask your pressing questions and I choose one each month to tackle.
WEEKLY ROUND-UP EMAILS – so you'll never miss a thing.
And you'll get instant access to:
A RESOURCE LIBRARY of over 130 resources, guides and templates to support you with everything from getting a PM job to leading the change in your organization.
Our private FACEBOOK group to network chat and connect with other project managers.
EMAIL ME and get access to my 20+ years of project management experience. You can email as often as you like – I'm here to support you.
And, as if that wasn't already enough, Rebels also get FREE ACCESS TO PAID PUBLIC COURSES including Scheduling, Change Management and Delivery Roadmap Workshops worth $470, as well as free access to all future workshops.
The PM Rebels dedicated membership site is easy to access no matter where you are.
Dip in at work, at home, on your commute, or on your lunch break…whenever works for you.
And as the content is designed to align with your professional development through PMI or APM you can document the time you spend on it as PDUs.
PM Rebels is designed to meet you where you are and help you to move to the next step of your career journey – whatever that may be.
PM Rebels is perfect for you if:
You're managing one or more projects of any size. You might be new to the profession, have taken on a new role, or been thrown in at the deep end with multiple projects.
You're looking for personal support in a friendly group environment.
You're ambitious and ready to invest in yourself to develop your PM career.
You're willing to learn, to ask questions, and to listen to the advice of others.
You're ready to rebel against the corporate structures and find a way that works for YOU!
You want more joy from your work (you're there most of the week after all) so you can enjoy all the good stuff outside of work too.
"PM Rebels has grown my confidence in my own ability. Hearing that other people have similar issues and knowing that you can help them with your experiences is so empowering."
Rachel Owen
"Access to tools and meeting recordings is so valuable. As well as the feeling you get from being part of a community of people that think alike."
Katrien Vermeiren
Meet your mentor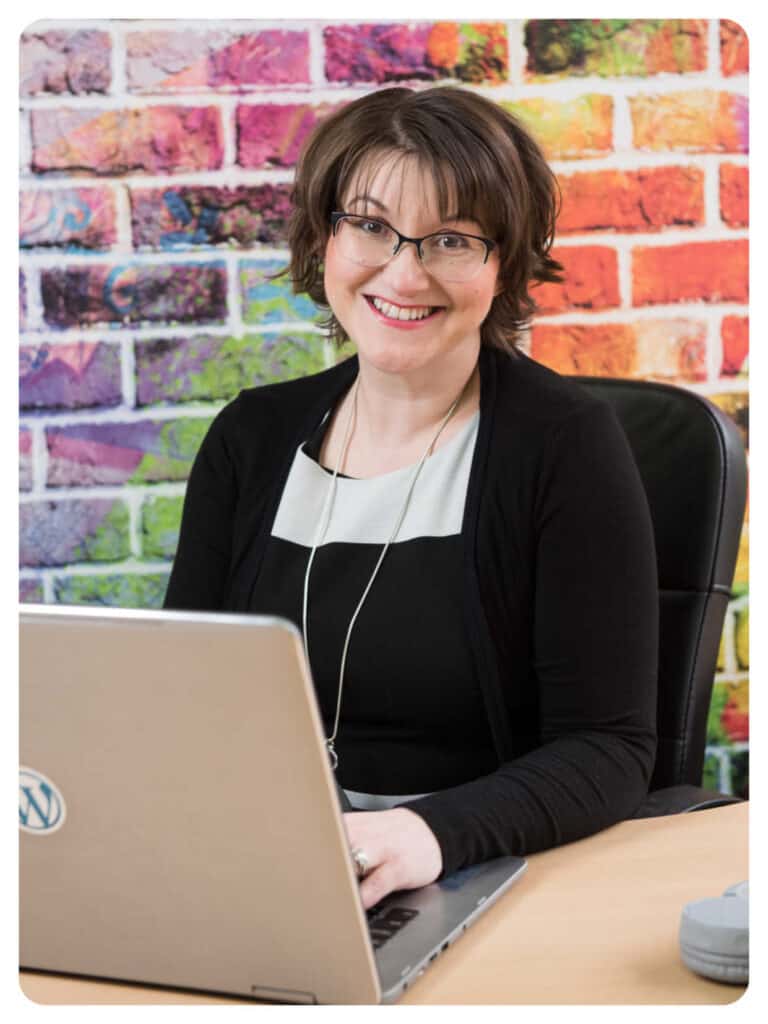 Hi, I'm Elizabeth,
Mentor, Author, Award-winning blogger and APM Fellow …
And I was a project manager just like you for 20 years. I really felt I could make a difference. But I also doubted myself.
I've made brave choices to get to where I am now – but at every stage I've felt just like you.
So, I now use my experiences to help others make their own brave choices and take big steps forward.
I've spoken at conferences around the world, written for industry press, and been interviewed by industry experts. But what I always love most is helping others to really make a difference.
I believe in making things simple.
In trusting people to make the right choices.
In action and doing over methodologies and textbook learning.
Oh and cake…meetings always need cake 😊
"Elizabeth's given me a model I can aspire to–a friendly person who's also a badass at getting things done."
Karla
"She understands project management doesn't happen in a perfect environment, and gives practical, actionable advice."
Lindsay, Project Manager
"I really appreciate Elizabeth's easy-going, positive style. She makes project managing sound challenging but in a good way… challenging but achievable."
Miranda Bridgwater
"Elizabeth is the most committed mentor I have met so far. Enthusiastic, optimistic and with a passion for PM."
Alex Errea
---
PM Rebels Membership
Monthly membership $97 pm
Affordable monthly payments
Cancel anytime
Payments can be made in in $ or £
Annual membership $1066
Pay annually
and get 1 month FREE!
Payments can be made in $ or £
I get it, you have a lot going on already. Work is busy, life is busy. You don't need more to do. But PM Rebels is designed to make things simpler.
This isn't just another training course to complete and then file away. There are no exams and no rigid this-doesn't-tell-me-what-I-need curriculum to follow.
This is real-world support that you can access every day to make your work easier.
How many hours have you spent Googling the answers?
Watching Youtube videos (on 1.5 speed) without being sure you'll actually get what you need?
Or just scrolling mindlessly because you're so overwhelmed?
Instead, why not put that time towards getting the support and reassurance you need.
Just 2 hours a month is enough to get access to the training and group mentoring opportunities that will give you the confidence to drive your career forward.
With 23 pre-recorded training webinars on topics other project managers have asked for
Over 30 recorded office hours calls FULL of all the questions others have asked and the advice given
18 'Quick Question' coaching videos to give you instant answers to the most commonly asked Project Management questions
Resource packs for Job Seekers, Risk Management and Lessons Learned
31 extra dedicated templates and guides that you can download, print and keep to refer to again and again
As well as book summaries, challenges, and more…
You can be confident that Project Management Rebels will give you the answers you're looking for.
"The fact that everything is recorded and available at a time that suits me really helps. The sessions, are never longer than an hour, and that makes them really manageable to fit around my schedule."
Alex Shephard
"Where there's a lot of 'noise' and I just need some really clear advice or pointers, I reach out to Elizabeth and get advice that I can trust. I consider PM Rebels to be an investment in my future. It helps keep me in a job and supports my future aspirations. Anything is possible when you're a PM Rebel!"
Amanda Howard
What else are you investing in this year for your career? (Let's not mention that stationary obsession…)


"I've given up my Institute for IT Practitioners membership, as it didn't feel like good value for £150+ a year but have kept the PM Rebels membership as it offers so much more."
Amanda Howard
Want to know more about how it looks inside?
Got questions? (Of course you have, you're a project manager)
Who are your members?
Members are from all sorts of industries, from IT and Finance through to Education, Healthcare, Agriculture and Engineering. From start-ups through to big multi-national companies, members span all sorts of different experiences. And we're an international bunch with members in the UK, Europe and across the USA and NZ. So, there's plenty of different experiences to share, and lots in common.
How long do I need to join for?
There's no limit. Depending on where you are in your career you'll need different things from the group. But this is something to consider for at least a year to get the most from it. There's over 75hours worth of existing resources to begin with, and new content added every month.
Do I have to join all the calls?
No. This is a totally flexible membership for you to use on your terms. Some months you'll be able to join the calls. Sometimes you'll be up to your eyeballs in a project and you just won't be able to. And that's just fine. You won't miss anything; the recordings are always there to re-watch.
What if I want to cancel?
We're really confident you'll love being a part of this group, but we understand that sometimes things change. So that's why with our monthly membership you can cancel at any time.
What if I don't use Facebook?
Not a problem, there's no pressure to join the group, but it's there as a supportive community for those that want to join.
Is there 1:1 mentoring available?
This is a group mentoring community, BUT you can email me anytime for advice, and when you join Office Hours calls we chat in small groups so you have the chance to ask me lots of questions. But if 1:1 mentoring feels like a better option for you then I do offer project management mentoring.
---
What the PM Rebels are saying…
"I was lacking in confidence, thinking that everyone else knew what they were doing, which stopped me from applying for a strategic project manager role. This changes when you have access to clear, professional advice and support, meaning that you are ready to take on the world. It's not rocket science to manage projects, but it's helpful to have clear sensible advice to deal with the very real challenges."
Amanda Howard
"Project Management Rebels is a great community to be a part of. Elizabeth delivers well-curated content in an easy-to-understand format that includes many templates and examples that I've already been able to put to use in my work. Elizabeth was really flexible with skill-building topics for the group based on the group's needs and requests. I definitely recommend signing up!"
Lindsay, Project Manager
"No bla-bla and over-the-top seriousness, just hands-on tips and tricks served with style. Elizabeth is smart & funny, and she's got skills! She reassures you and gives support without making you feel stupid. I'd recommend PM Rebels for all these reasons."
Els Penne
"I am renewing my membership as PM Rebels is a great mentorship program to see how others handle real life situations. It's a great feeling that there is a group specifically for Project Management and there are others going through similar situations or struggles. I like how convenient it is to access tools and reach out if there any questions. The topics are engaging and always relevant to any type of manager. I feel like I know the basics of Project Management, and I like how this group talks more about tips, strategies and working with people."
Alyssa Torres
"What I like most about PM Rebels is having a group of people who you know are going through similar work issues and phases, knowing that support is only an email or webinar away. And, having access to resources and tools quickly and easily. Elizabeth listens and is super empathetic, as well as experienced. She's definitely 'been there and done that' and it's super helpful when you're working in a generally isolated role. I'd recommend PM Rebels to you if you're looking for a supportive community to help you grow as a PM."
Rachel Owen
"Working for a small company, I often feel like I'm out on my own, and this community helps me not feel like that. I've joined other groups with a coaching focus, but coaching assumes I have the answers, and honestly, sometimes I just don't! Whereas PM Rebels is there for the mentorship and support directly relating to project management, so it gives me tools I may not previously have ever dreamt up. PM Rebels has given me the confidence to understand that there is no single way of managing a project, and to have the confidence in myself to lead projects in my own way."
Alex Shephard
"More relatable and practical than advice from PMP study and podcasts. I like that there's a focus topic each month. The courses are very practical and I appreciate being able to join them live or remotely and revisit them later."
Karla
"I just wanted to say a huge thank you for putting PM Rebels together. It came at a time when I really needed an experienced person's input and advice on where I was in the project I'm running. I feel more confident and have learnt so much. Thank you once again and wishing you all the best as you continue to add value to the PM world!!"
Mphangela, Project Manager and Architect